John Young, Working Cowboy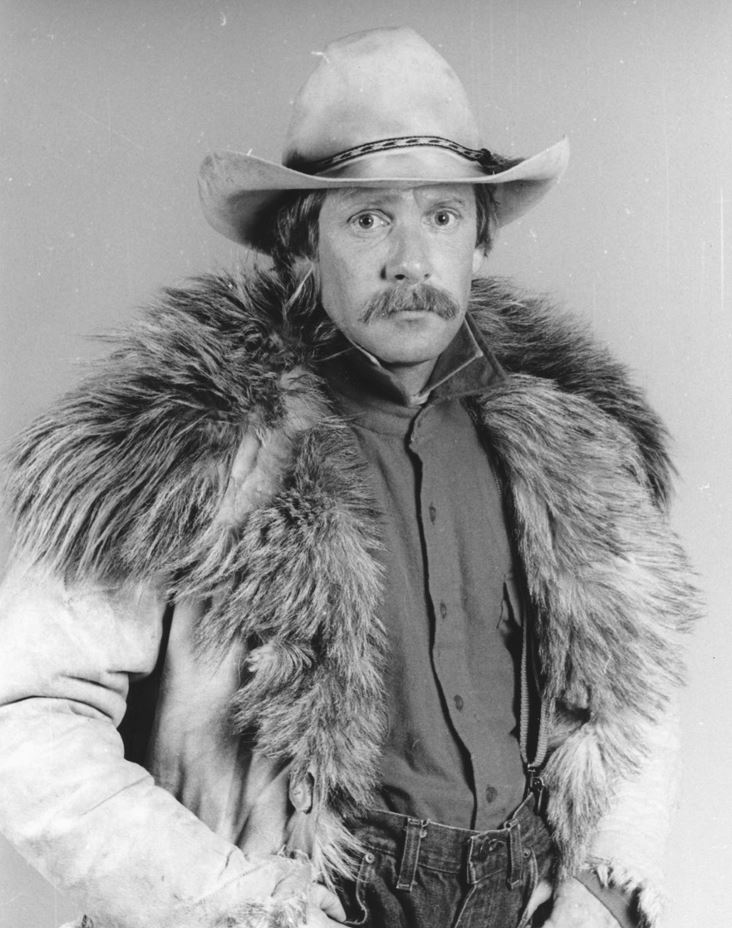 John Young's experience and achievement speaks to being a cowboy of tradition.
John Young's cowboy career started as horseman. Yet he wasn't born near a ranch; he was raised in the city (Vancouver). He turned away from city life at a young age. His introduction to horsemanship was to embark upon a new horse trail, the Pacific Coast Trail. It stretched from British Columbia to southern California. He stayed in California to learn all that he could about horse training and horse doctoring. He then returned to BC to undertake his career as horseman.
In the 1970's, John Young commenced work at Douglas Lake Ranch, east of Merritt, BC. There he worked and trained with several men who are themselves now members of the BC Cowboy Hall of Fame. Douglas Lake had approximately 300 horses used by ranch hands. Ranch Owner C.N. (Chunky) Woodward undertook a championship level quarter horse breeding program. John Young worked the quarter barn. He developed his own training techniques and equipment usage for training cutting horses to work cattle. Additionally, John trained working ranch dogs, directed in their work by hand signals. Over time, John Young's duties at Douglas Lake grew. He immersed himself in cow camp work, plus management of horses, herd and grasslands.
In the 1980's, he put that experience to work at the historic Parker Ranch in Hawaii, plus assisted BC ranches such as Empire Valley and The Gang Ranch. In early 1990's, John and Brandy Young moved closer to Williams Lake, BC. For the following twenty-five years, John Young provided professional training
of horses for this community. He also coached the Cariboo Cowgirls Drill Team, a riding team participating in rodeo events in BC and Alberta. For many years he provided volunteer assistance to the Williams Lake Stampede and community.
There is a further element to John Young's career. He became a face of artwork, film, and written works portraying admiration for the cowboy, and cowboy lifestyle. Several oil paintings featuring John as subject, were created by Canadian western-frontier genre artists. They depict a cowboy at work.
Additionally, John Young played a background role in film so as to ensure accurate presentation of the working cowboy. A Reader's Digest story was published about John, which account highlighted the dangers and isolation of cowboy work on ranches. A National Film Board documentary short film was
also produced about John Young and another. That film focused upon the risks and dangers of traditional cowboy work, leading in one instance, to a life-saving rescue. Those risks feature in his life.
Allan J. Macdonnell, Horesman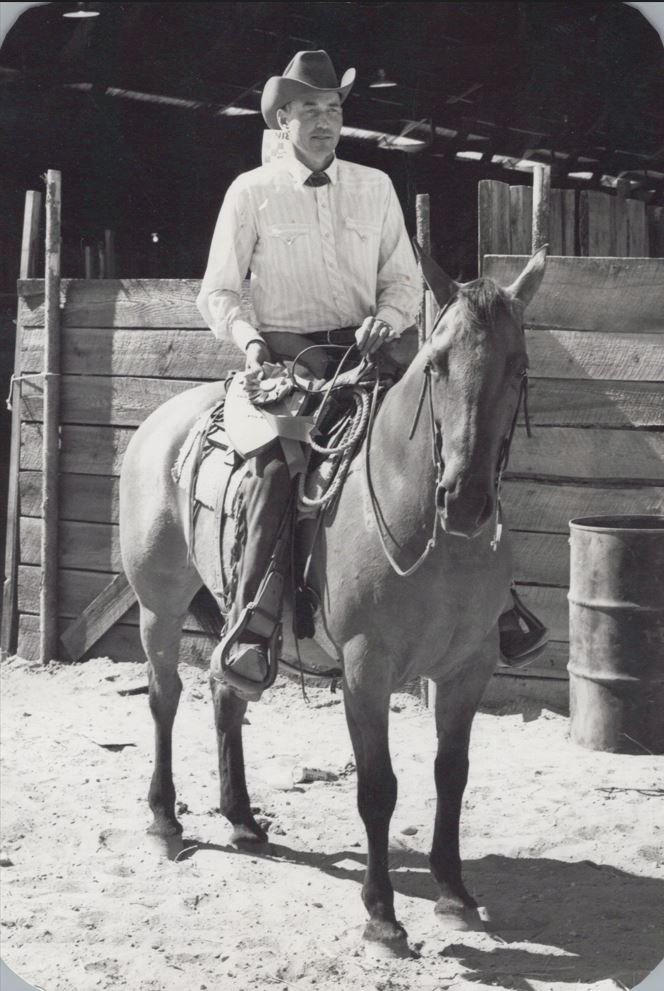 A true cowboy and horseman, Allan Macdonnell's passion for horses and ranching lasted a lifetime. He was born May 18th, 1924, on his family's farm in Winfield, B.C. He spent his entire life in the Kelowna/Winfield area.
As a young teenager, he joined his father on cattle drives and range riding throughout the central Okanagan. After many unsuccessful attempts at begging his father to take him along on the long drives, Gus finally agreed to let Allan go along.
In 1950, Allan married Ella Anderson and together, ranching was their life. They started out by purchasing a 70-acre ranch in Kelowna, from Allan's parents. In 1976, they purchased a ranch in Lake Country, naming it the Woodsdale Ranch, where they continued to operate a beef cow/calf operation and horse program.
Whether it be stepping on a colt or riding the range, Allan was in his comfort zone. He broke and trained colts, and enjoyed the sport of roping, as well as cutting and other western competitions. Allan had a natural instinct for training horses in a forward thinking, progressive way; his skills were exceptional. He could read a horse like a book and always had a reason for each approach to an individual horse.  His breeding program and training methods turned out respectful and willing horses.
Allan rode till he was 89 years old.
Reg Steward, Builder of Western Culture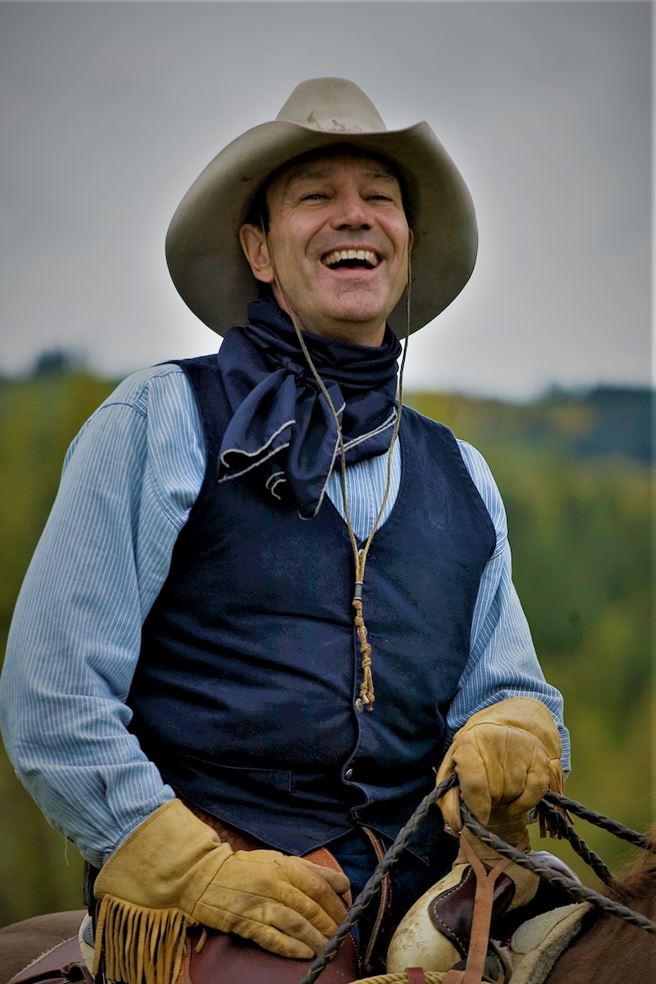 Reg was born in Prince George BC, the son of Charles and Rita Steward.  His father, Charles, "Chuck" spent many years as a working cowboy in the 83 Mile and Buffalo Creek area.  His father inspired Reg's interest and love of the cowboy life and ways.
Reg worked at O Keefe Ranch, was the manager of ranch operations for Crystal Lake Ranch, assisted with high school rodeo events doing everything from working in the stripping chute to announcing and leading cowboy church.  In 2002 he became the British Columbia Ranch Safety Consultant for FARSHA the Farm and Ranch Safety and Health Association, now known as AgSafe.
In this role, his understanding and love of the lifestyle and culture shone and motivated him as he worked endlessly, logging millions of kilometers over time to maintain the cowboy way amidst an ever increasingly regulated ranching world.  Reg's ongoing work as a contracted day cowboy and range rider, working for the Onward Mission Ranch and others in the Cariboo, Chilcotin and Nicola regions, enabled him to apply his understanding and awareness of the things that remain cowboy work best practices.
Reg has relentlessly and logically lobbied for, contested for, and successfully enabled the cowboy way of life, the cowboy way of work, and use of the cowboy tools of the trade, to continue to be the ways and means of doing things in today's regulated work world.  Reg has conducted seminars and clinics throughout North America blending his passion for the cowboy way of doing things, still the right way in so many ways, amid the changing climate of industry and activism.  He invigorates young cowboys, farm and ranch youth through 4H presentations, clinics and events seeking to inspire them to uphold the way of the cowboy.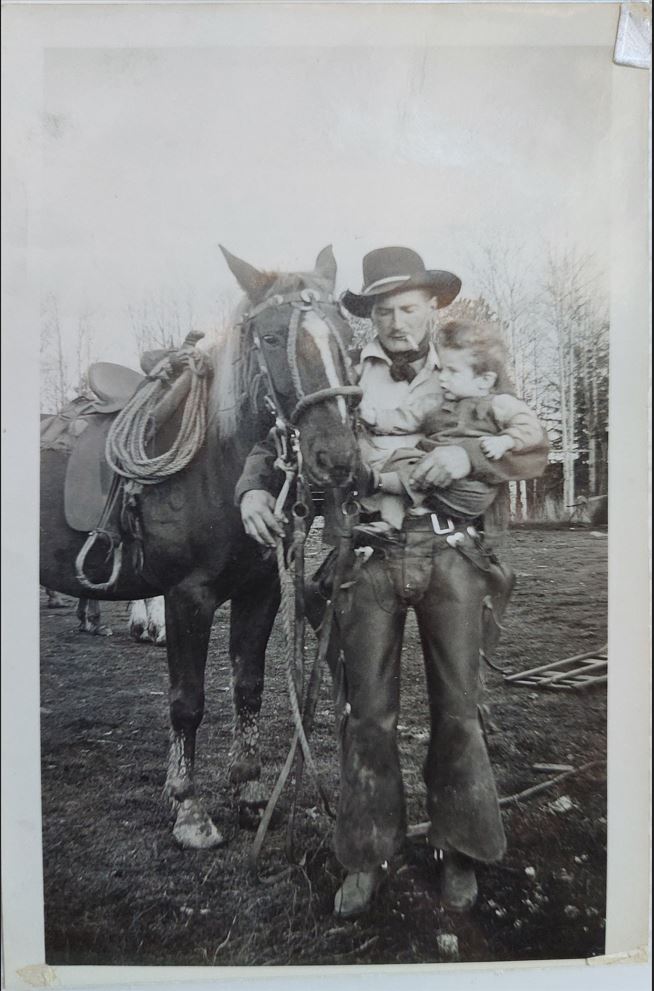 William (Bill) Pulver was born Feb 3, 1914 in Winnipeg, Manitoba. At an early age, his family relocated to
western British Columbia, settling on Vancouver Island in the Saanich area. In 1928, at the age of 14, Bill
left home and hit the road of self-discovery. He found himself in the Cariboo-Chilcotin, working on a
variety of ranches including the Moon Ranch and the 150 Mile House Ranch. It was there, where Bill
found his love for the cowboy culture, passion for breaking horses and the thrill of the rodeo. He would
travel to the Williams Lake Stampede and compete in calf roping, although he found the pig racing to be
the most amusing. In 1936, Bill found the true love of his life in Mildred or Millie Ellen Fanshawe.
Together they had two daughters, Barbara and Gwen. Shortly after starting the family, Bill was shipped
out to serve his country in 1940. He fought with the 3 rd division patrol in France, Belgium, Holland and
Germany. In 1945, Bill returned from overseas and immediately went back into ranching, starting his
own, the Mountain House Ranch. During this time, he continued to compete in rodeos, winning the
Champion Roping contest in 1948. However, things took a turn for the worse when he suffered a heart
attack in 1953, forcing his hand to sell his beloved ranch and temporarily relocating to Silver Creek, BC.
Just like the old saying goes, you can't keep a good cowboy down, Bill moved his family to Alkali Lake
Ranch in 1956. There, at the age of 42, Bill worked on the ranch, focusing his attention on breaking
horses, which was his true passion. Millie worked the kitchen and provided meals for the ranch hands.
During an appearance at an arena rodeo, he inadvertently started what would become his most beloved
and memorable act – his dog and rooster act, which consisted of his rooster Henry harnessed to a little
chuckwagon and his dog Cheekie, a Pomeranian, that would push a baby buggy. This originally started as
an arena act but grew into parades and other celebrations throughout the Cariboo and Okanagan.
In 1976, Bill and Millie retired to Armstrong, BC to be closer to their daughters. Bill continued to
participate in rodeos with chuckwagon and pony sulkie racing and walking in parades. He became
heavily involved in the Okaganon Valley Pony Association where he was the President and frequently
participated in the annual fundraising march for those with disabilities.
Up until he passed in 1990, it was said that Bill would be spotted out for a walk, with his trusty rooster
Henry by his side.