A solemn moment of silence at a funeral gathering overlooking the river valley; A small crowd of onlookers inspecting a train engine that has spilled over onto the tracks; Children frolicking out in the snow during a break at Parkside Elementary school; A man takes a mid-afternoon snooze in the tall grass at an otherwise uproarious stampede competition; Flames tear through the Elks Hall in the dead of night.
Each photographer featured in this exhibition provides a personal glimpse into the growth of this town through their own trained photographic lenses. Ben Clarke, the young man who grew up raised on a homestead and wrote about the Cariboo-Chilcotin extensively for various newspapers; Syd and Cordelia Western, who found love through their shared passion of photography and eventually opening the first movie theatre in 1926; Lil Deschene, who's husband worked on the P.G.E, was a frequent presence with her camera at any and all functions in the community; Irene Stangoe, who purchased The Tribune with her husband Clive in the 1950's and wrote popular books on the histories of the Cariboo; R.D Holland, a stationed RCMP Officer who had a special and unique eye for capturing downtown Williams Lake; And of course, Dr. John Roberts — a beloved Veterinarian who dedicated much of his free time researching and writing about the history of Williams Lake.
'The Laketown' is an exhibition showcasing our museum's collection of photographs made in and around Williams Lake from as early as the 1920's and through to the 1980's. This project officially started in February of 2021 and was a huge undertaking for our small but dedicated staff. Hundreds of hours of scanning, processing and editing were carefully utilized over the course of the past 9 months.
Please click on the galleries below to open in a separate tab.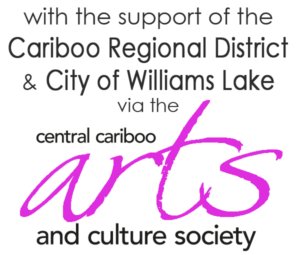 We would like to thank the Cariboo Regional District and the City of Williams Lake via the Central Cariboo Arts and Culture Society for their financial contribution. Without their generous support, this would not be possible.