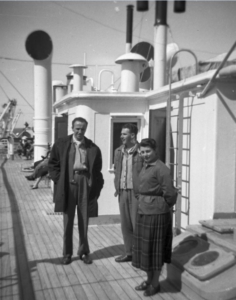 Ed and Marta met in 1945 in a military hospital in Obertraun, Austria, where Ed was sent to recover from a leg wound. Marta, a Hungarian refugee, was helping her parents clean the hospital, working only for food. She was 17, he was 18, and it was love at first sight.
They moved to England, married and lived there for seven years. In the spring of 1955, Ed and Marta embarked on the adventure of a lifetime, buying passage to Canada on the Greek Line Ship Neptunia for themselves and their 1951 MkV Douglas motorcycle. On April 28, after 10 days at sea, they arrived in Montreal and began a four-week and almost 4,000km motorcycle trip across Canada.
This was long before the TransCanada highway was built, and they traversed gravel roads and sand so deep that Marta had to sometimes hop off while Ed pushed the bike along. It cost $206, "including food and beds every night," Ed wrote in a detailed account of the trip.
They landed in Vancouver, where they lived for several years. Ed worked as a cabinet-maker and pursued a passion for rally cars that first developed in post-war England. He crossed the country five times in the 1960s as part of sponsored rally teams (sometimes along with Marta). Ed became president of the Columbian Autosport Club in 1964 and participated in and officiated at many events throughout the Lower Mainland in the '60s and '70s. In 1965, he created the "Deak Trophy" to honour the top rally navigator in Canada.
Source: The Tyee