WE WANT TO HEAR FROM YOU!
The Museum is busy preparing a new exhibit on the 2017 Wildfires of the Cariboo Chilcotin, and is seeking your help! We want to hear your short stories and experiences during the 2017 wildfires. Selected stories will be displayed as part of the exhibit.
Please email your short stories and contact information to mccstudent@telus.net 
If your story is selected, we will contact you to follow up.
We look forward to hearing from you!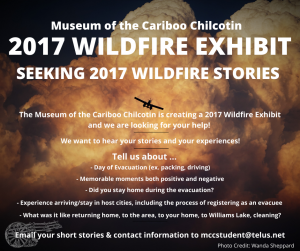 #BCStrong #CaribooStrong #BCFires2017 #ChilcotinStrong #CaribooWildfires