Only a couple more sleeps until our Annual Christmas Tea & Bake Sale!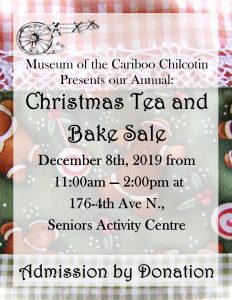 The Museum of the Cariboo Chilcotin will be hosting their annual Christmas Tea & Bake Sale this coming Sunday December 8th, 2019 from 11am to 2pm at the Williams Lake Seniors Activity Centre (176 – 4th Ave North).
Please come join us, and support the museum at our bake sale and tea! Let us help you cross off Christmas baking from your list of things to do this holiday season!