Part II (See the Williams Lake Stampede Facebook and Instagram pages for part I.)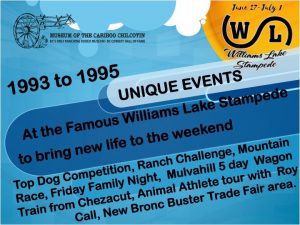 The events brought back by the Stampede Association were:
1993:

A Re-birth of the Mountain Race that dates back to the 1920's when cowboys raced down the side of Fox Mtn. This was reinstated due to an error in a 1993 poster, rather than re-print, the Association decided to re-introduce the once famous race. The race in 1993 started in Boitanio Park across Oliver Street down the hill near the Trail Riders Arena onto the track and into the arena. Today the race starts at the top of the hill near Boitanio Mall on the south side of Oliver Street, down the hillside onto the racetrack and into the arena full of screaming fans. This event continues to be one of the attractions for spectators to the rodeo.
1993:
Ranch Challenge: an event where bonified ranchers or employees of that ranch could compete for a trophy. Events included (wild cow milking, pony express and cattle penning).
The Ranch Challenge continues to be an event at the Williams Lake Stampede with July 1, 2019 being dedicated to the event.Top Dog Competition where the owner tests their dog handling and cattle penning abilities. This competition used to occur Saturday and Sunday prior to the Rodeo.
This event eventually stopped, but would be a great event to bring back in the future1995:
Friday Family Night was introduced with children under 12 entering through the gates for free. This continues today with Friday evening also being a solute to our military. Wear Red in support.
1995:
C+ Rodeo Roy Call started hosting an animal athletic tour behind the bucking chutes. Roy continues this tradition today as he explains the different animals; their events, how they are used and looked after along with the equipment used by the cowboys and safety precautions.
1995:
The name "Bronc Buster trade fair" was created, providing continued entertainment, vendors, and demonstrations.
1995:
New but past traditional event was the Wagon Train, a 5-day adventure in wagons or on horse back from Chezacut put on by Roy and
Gwen Mulvahill, which followed the old cattle trails to Williams Lake. 
Today the wagon rides continue to come into Williams Lake for Stampede Weekend. Annual Xeni Gwet'in Youth Wagon ride is in its 10th year
 spending 8 days on the road before entering during the grand entry at the Williams Lake Stampede.
Gwen and Roy Mulvahill continue to be a big part of this trip.
Ulkatcho has 14 participants joining the wagon trip this year.